I've had a HUGE week, so this morning I popped out to one of my local favourite cafés where I could be pampered and relax over a great latte or two and a yummy breakfast.
As you can see in the photo, I read an article about Oprah in the newspaper and caught up on what I've missed in the past week or so. That latte was made by my favourite barista, Sean, and was soooo delicious I had to have another one after breakfast

It's been a rather busy time for me as I prepared for – and attended – 3 days at the Sydney Royal Easter Show. I was invited to demonstrate silk painting techniques to the Show's visitors, and I had a simply marvellous time!
From 3 year olds to old folk in wheelchairs, I had so many people wanting to try out their hand at silk painting that I had to get my friend Lynne to quickly stretch some silk and do demonstrations for me on the other side of my Booth. It was fabulously exciting and fast-paced, and we had the best time! Lynn also did demonstrations of how to make silk jewellery – it was very cool, and I took a video to show you.
In the next few days I'll be drawing 3 names out of a hat – visitors to the Booth who filled in the How-to-Paint-on-Silk.com form for the chance to win one silk scarf per day, and I'm very excited to contact all the participants and let them know who's won!
My booth was decorated with some of my handpainted silk scarves, cushion covers, Haori jackets and silk tops, and looked so bright and cheery.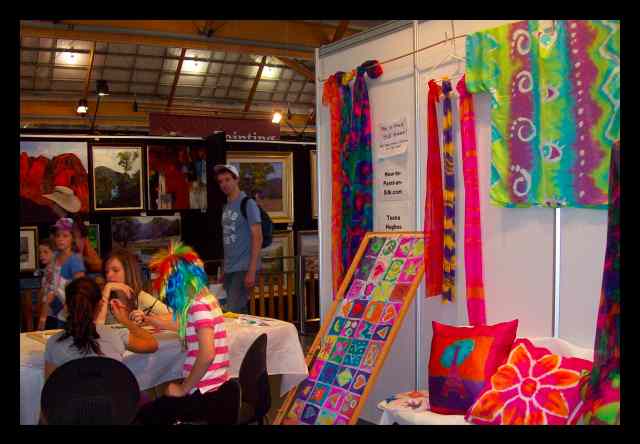 Above: my home for 3 days

The How-to-Paint-on-Silk.com Booth …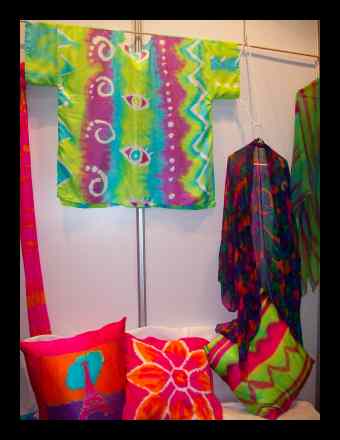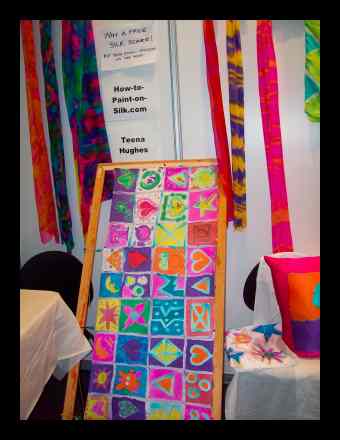 Above: views of the Booth.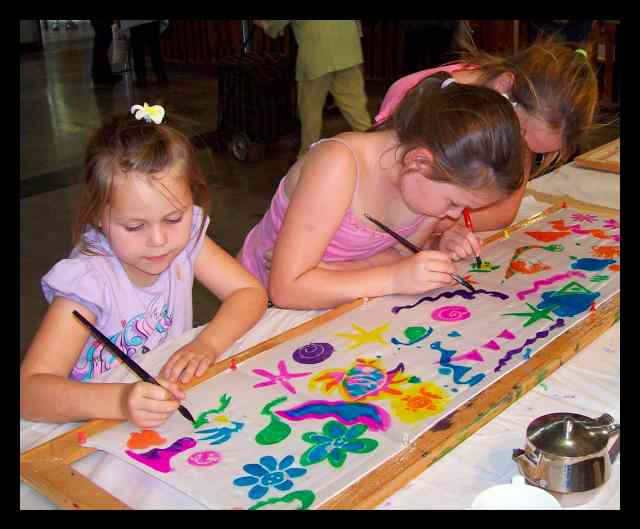 Above: three sisters having their first go at painting on silk – and doing a marvellous job!
You can see more photos on How-to-Paint-on-Silk.com Easter Show >>
In Sydney? Want to paint on Silk this Saturday?
Oh – before I forget! If anyone in Sydney would like to join me for a Silk Painting Workshop on Sat April 24, please let me know.