The seasons roll by, the hint of summer, autumn (fall), winter and spring remind us what time of year it is, and in December I did mention how FAST the time was flying by …
Sometimes though, especially in the warmer months, I feel the deliciousness of the warm days, the wonderful little breezes off the ocean, the sound of cicadas as the day starts to warm up.
I'm very lucky to work from home and I have a range of sarongs to wear to keep me cool in the house, or out on the verandah which goes around three sides of the house to give some shade.
I know I'm lucky to live in a tropical place where my summers are a far cry from summers in Iceland and Europe so I got to thinking — what do you wear the most in summer at your home?
I painted some silk recently which I'd like to share: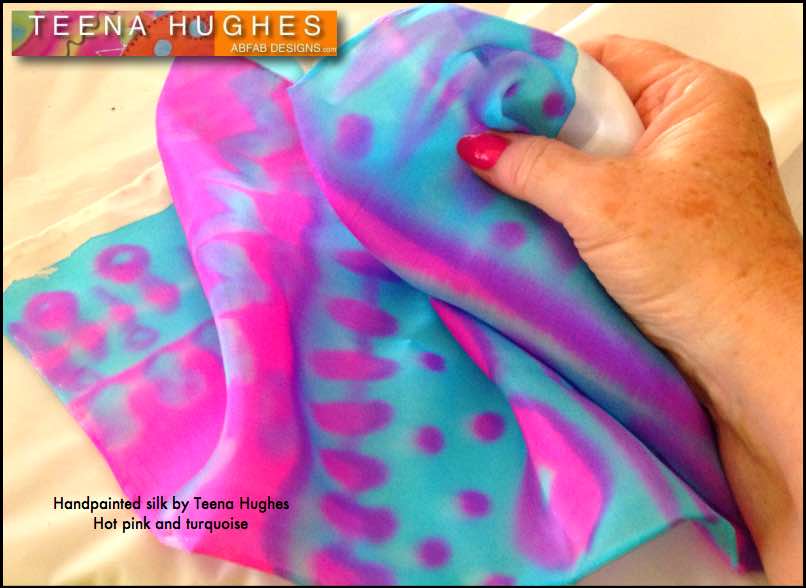 Creating patterns and designs is what I love to do with my silk dyes — the shadows and extra colours which are created are sooo delicious, don't you think?
Thank you so much to the lovely souls who wrote to give me some feedback on my new Video Intro last month — I really appreciate your very kind words — I'm pleased you all enjoyed it so much!
Thanks too for the feedback on my ideas for my designs going forward — I'm going through them all and formulating my plan which is so exciting!
UPDATE — here are the links again for my brand spanking new Abfab Diary for 2016 — it was a long time coming and I'm so pleased to see it's now 'alive' in the world :-)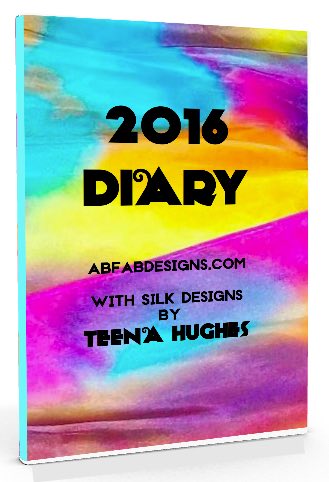 Click here for more info and to look inside the Diary >>
Do any of you have any photos of you with any of my Abfab designs you'd like to share? I'd love to see them, and put them on my site if you're open to that — fingers' crossed!
---
I bought and read a book from amazon recently that I can't get out of my mind — in such a delicious way!
It's called THE CROSSROADS OF SHOULD AND MUST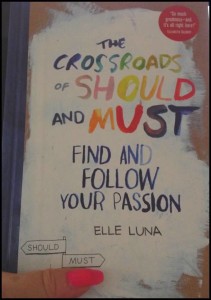 It's one woman's struggle between doing what she SHOULD all her life (like getting a good job, following all the rules etc) instead of doing what she MUST (the one thing which makes her heart sing and her being fill with love and wonder).
The start of the book really weaves a web around you which is totally spellbinding and after getting into the true story, I really felt for her.
If you've ever struggled with wishing you were doing something MORE with your life, you might enjoy this book — if you read it, I'd love to hear what you thought about it.
---
OK that's it for today's update "February is my birthday month"!
From my heart to yours, have a fantastic February !

Ciao ciao for now, talk soon Abfabalicious friends!
Big hugs from

More soon! XXX
Teena Hughes
PSSST! Not on the mailing list? Pop over here and sign up:
Prefer to chat on Facebook? Pop over to this page >>
---