Marvellous March — you're here already!
How's your month been? Can you believe we're in the 3rd month of the year already?!
It's quite a relief! We've had high temperatures around 30degC to 35degC — 86 – 95degF — for a couple of months now, with very high humidity (and there's no air con in this rental house).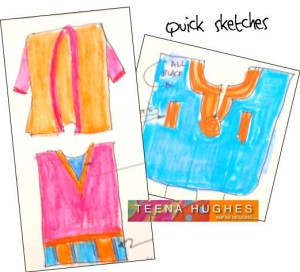 When the temps are more reasonable, I have more energy and I'm ready and raring to be MORE  creative :-)
I've been sketching new clothing designs, cutting out fabric and having lots of fun trying out new fashion ideas which I'll be sharing with you VERY soon!!
I've also been arranging my first trip to Norfolk Island next October (in the South Pacific east of Australia and north of New Zealand), and starting to put plans into place for my month in Paris in September — woohoo! [Let me know if you'd like to know more]
Today's Abfab Designs Video News:
Click the PLAY button to watch:

.
PS – the car barge only takes 10-15 minutes.
---
Wondering about the pink wig in the photo above?  It was a spectacular birthday present from my gorgeous friend in the UK — I like to wear it when I'm Skyping :D
---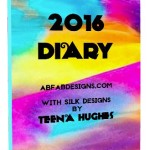 My new 2016 Diary has been published on Amazon, and I ordered a copy for myself so I could make sure all the colours and designs inside looked great — and they do! I'm so pleased AND relieved.
I'm now working on an Abfab Journal with no dates in it, which can be used for note taking, or a travel journal or many other reasons. I'll let you know when it's ready!
Can I ask a favour? If you decide to buy a copy (and I'd be ever so grateful if you do!), would you be so kind as to post a Review on amazon? It will help boost my little book amongst the millions of others online. Thanks ever so much xxxx
Click here for more info and to look inside the Diary >>
---
As part of getting my creative juices flowing, I've started writing a book for children between the ages of 0 and 3.  It's not published yet, but I've written the words, and now I'm ready to do the illustrations by sketching the birds around where I'm living, and there are sooo many!
So I'm starting with pen sketches, then I'll do some samples with watercolour paints, more with markers, and finally I'll do one as a silk painting. I may post some of them here to see what you think.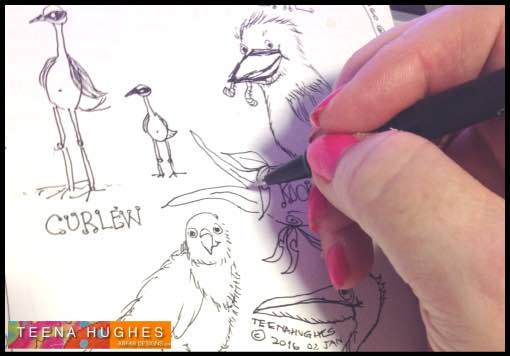 I am SO excited to get the illustrations finished so I can publish the book — I'll keep you posted!
July 2016 UPdate!
I have now written severl children's books — click to check out the first one KOALA KOALA and the cute children's clothing ideas!
---
I've also been dabbling with some new silk dyes, and looking forward to producing some fabulous new wearable art pieces.
---
Did you see the lovely Hilka in Paris in the video above with her matching Abfab Fiesta Umbrella and Shoulder Bag? Those gorgeous colours against the black clothing and the wintery day look fabulous!
---
Did you miss the latest News and videos?
---
That's it for today's news update – stay tuned for more soon!
From my heart to yours, have a MARVELLOUS MARCH!

Send me your photos and questions – I'd love to hear from you!
Big hugs with love from

XXX
Teena Hughes
PSSST! Not on the mailing list? Pop over here and sign up  >>
Prefer to chat on Facebook?
---