The box said, "Mugs designed by Teena Hughes" — woohoo!
They've arrived! I couldn't wait to open the box, dash down to my local cafe to meet friends and showed them my new creations :-)
In the photo below, gorgeous Barista and friend Melissa chose the FIESTA design as her Christmas gift, and friend Carolyn chose the Versaille design. Oh what joy to be able to share my designs on mugs which will remind my friends of me every time they use them!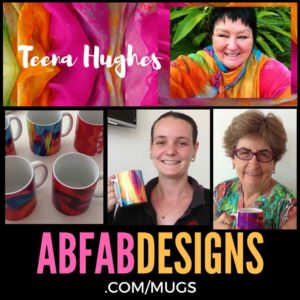 I also got an email from the supplier today to say there is a one-day SALE on TODAY where you can get a 10% discount AND free shipping worldwide! Woohoo!
Sign up to be notified of special offers!
If you'd like to be notified of special offers and new designs, please do sign up for my Abfab Silk Newsletter:
More details on the Mugs
Got any questions?