My New Illustrated Children's Books!
This year I have written and illustrated several children's books (not yet published), and I'm thrilled to bits! You may not know this about me, but I love to draw — I always have a sketchbook within reach (and in my handbag), and I have been drawing Australian animals for as long as I can remember. Inbetween those sketching times, I draw clothes — yes, I love to sketch my ideas and colour them in with watercolour pencils or Sharpies :-) and NO, I do NOT sketch Aussie animals wearing my fashion designs!
Here are the 'working titles' for the first books in the Aussie Animal Series:
Koala, Koala, are you asleep?
What's New Kangaroo?
Curlew, Curlew, what's on the log?
Emu, Emu, why do you run so fast?
Dingo, Dingo, can you sing a song?
Upcoming Book Launches
I will soon be translating them into French, and I'm so excited to let you know that I will be launching the French versions in Paris in summer 2017 – woohoo!
Matching Goodies with my Cute Characters on them!
I'm so excited with my illustrations I have decided to add them to children's clothing and gifts to match the characters of the books. Here are the first few "ideas" for Koala Koala — cushion covers, baby bib and romper suit, t-shirts (toddlers and children):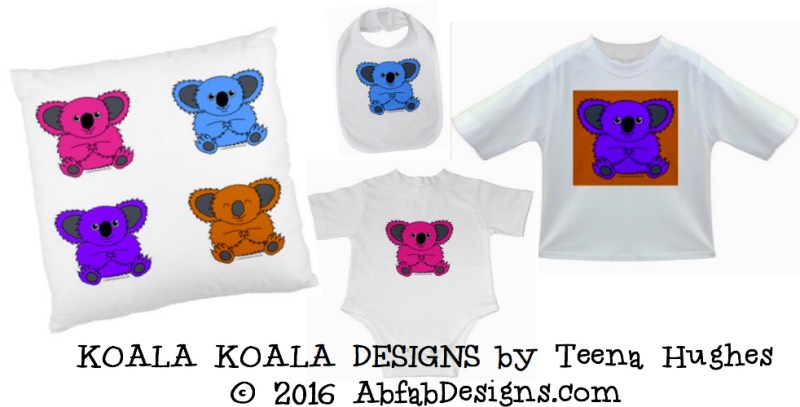 My other ideas are: notebooks, backpack, summer flip-flops/thongs for tiny feet, jigsaw puzzles, colouring-in books, calendar, and mini-umbrella.
Like my New Illustrated Children's Books?
What do you think? Am I on the right track? Please do write a note in the comments below or on Facebook, I'd love to hear your thoughts!
If you'd like to be added to the Book Launch Guest List for Brisbane (Australia) later this year or Paris (France) in European summer next year, please do get in touch, I'd love to see you!
cheers