Win a bautiful Handpainted Silk Scarf by Teena Hughes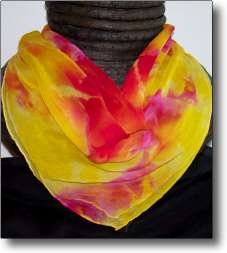 "How do I win a silk scarf Teena???"
"Where can I be in the draw to hopefully be chosen to receive a free silk scarf??"
All you need to do is subscribe to my Abfab Silk Newsletter – I pick a name out of the subscriber list each month – et voila! Quick! Sign up today! >>
Winners of Silk Scarves Handpainted by Teena
Is your name on the list? Please contact me with your mailing address so I can post your scarf to you :-)
Please Note:  If you unsubscribe from the Silk News, your name will be removed from the ongoing competition.
2015 Winners of Handpainted Silk Scarves
September –
August – Edith Ingersoll, Marseilles, France
July – Abigail Wallace,
June – David Grenchen, Finland
May – Erin Luchenko, Panama
Apr – Natalya Boucher, Switzerland
Mar – Audrey Morgan, Wales
Feb – Tony Spruce, Mauritius
Jan – Holly Taylor, Canada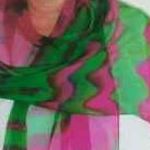 2014 Handpainted Silk Scarf Winners
Dec – Amber Bouchard
Nov – Phyl Morgan
Oct – Ceciia Butcher
Sept – Candy Henry
Aug – Gabriela Paquin
July – Romy Matton
June – Elaine Wallace
May – Deborah McAlpin
Apr – Becky Taylor
Mar – Debra Campbell
Feb – Annette Nelon
Jan – Jenny Fraser
2013 Handpainted Silk Scarf Winners
December – Eleni Yassoo, Greece
November – Marjorie Thistlethwaite, Scotland
October – Dan Magnussen, Sweden
September – Mimi Jakobsen, Finland
August – Dani Esposito, USA
July – Nathalie Burgquist, Holland
June – Marjory Brown, UK
May – Richard McConnaghy, Ireland
Apr – Tiffany Prince, Mauritius
Mar – Marie-Claire Almodovar, Spain
Feb – Andrea le Fevre, Thailand
Jan – Eloise Underwood, Venezuela
2012 Handpainted Silk Scarf Winners
Dec – Cinta Belena, Poland
Nov – Delilah Johnson, USA
Oct – Ana Umberto, Spain
Sept – Helen Yohansen, Sweden
August – Marie Louise Dunant, Madagascar
July – Andrew Benson, Sussex, UK
June – Greta Anderson, Sth Africa
May – Doreen Luciano, Berlin, Germany
April – Angelica Baron, Tasmania, Australia
March – Alicia Tregoni, Italy
February – Greta Valerio, USA
January – Stephanie Moon, New Zealand
Congratulations to the winners of silk scarves handpainted by me in 2011!
The gorgeous Anca is wearing a hot pink and yellow hand-painted silk chifffon scarf.
December – Alison Gruber, Australia
November – Graham Johannsen, Denmark
October – Devon Bebek, Yugoslavia
September – Gai Susman, USA
August – Margeurite Papazian, Italy
July – Merrilee Jonas, USA
June – Jaime Novak, Canada
May – Allesandro Rivera, Norway
April – Wendy Robertson, Greece
March – Francesca Delgado, Spain
February – Hazel Washington, Mexico
January – Carlie Benjamin, China
2010 Silk Scarf Winners
December – Angelina de Mio, Canada
November – Adriana Vanzetto, New Zealand
October – Marlene Higginbotham, France
September – Isabelle Foucault, France
August – Roberto Franconi, Italy
July – Stephen Fairbank of Australia
June – Leanne Cowie of Australia
May – Selena L McArthur of USA
April – Toni Rose, New Zealand
March – Tracy Catalano of USA
February – Sally Moulton of Germany
January – Greta Brown of Sweden
Click the button below to sign up to be in the running to win YOUR free silk scarf!
2009
November – Marlys of Paris, France
October – Lara Concepcion of Indonesia
September – Debora of Lismore, Australia
August – Vivian Bomberry of Vancouver, Canada
July – Joy Ralston of Elsternwick, Australia
June – Martina Halpin, Ireland
May – Kathy Kaczmarek of USA
April – John Wisz of Australia
March – Seri Law, Denver, USA
February – Beth Mastrude, California USA
January – Ann Allan, UK
2008
December – Charles Curty, Switzerland
November – Georgina Boddington, WA, Australia
October – Angela Lipari, New Zealand
September – Beverly Armato in the Yukon
Don't forget to read the previous issues in the Archive : read the latest newsletters online
Haven't subscribed yet?
It's quick and easy – pop over here to sign up today >>
or click this box: