Plus Size Fashion Tour Options
Hi! My name's Teena and I LOVE PARIS, so  I've created a Plus Size Fashion Tour Adventure in Paris and I'd love it if you could join me!
I'm also creating a new Plus Size Fashion Tour in Australia, on the beautiful Gold Coast where it's summer all year round – stay tuned! Sign up to be notified >>
Paris is one of the top fashion capitals of the world, and you may be surprised to find out there are some gorgeous plus size clothing stores to be found.
I have lived in Paris several times, and whilst there I learnt the amazing skill of handpainting onto white silk, to create gorgeous designs which I then turn into unique wearable art, (which you'll find available on this website).
I now pop back to Paris whenever I can, at least once per year, to host a series of Adventures (or Workshops).
Plus size shopping? In Paris??!
In the last few years I've noticed some gorgeous plus-size stores popping up all over Paris, and I'd love to show them to you – I can even translate French if you need me to –  and we'll basically enjoy days of adventures and fun with like-minded souls.
So – ready for a Gorgeous Goddess adventure?
Come join me on a Plus Size fashion extravaganza in Paris, France!
Option 1:
One Day Plus-Size Fashion Tour Adventure
Cost $US195
Duration:  10:00am to 2:00pm
We start off the day around 10am with our Meet & Greet by meeting in a Café and getting to know each other before we head off to the metro and bus. We stop for a lunch break around 1pm. After lunch is more shopping, and we visit several fabulous plus size stores during the day. There are lingerie stores, casual clothing stores and up-market stores. If we have time, we can also check out some yummy accessories :-)
Included: Meet & Greet Coffee, Metro passes.
Not included: Food, drinks (other than first coffee).
Dates:
Option 2:
Five Day/Four Night Plus-Size Fashion Tour Adventure
Cost $US2,295.00
Single Supplement? $US550.00
Dates:
[Questions?
Contact me today >>
]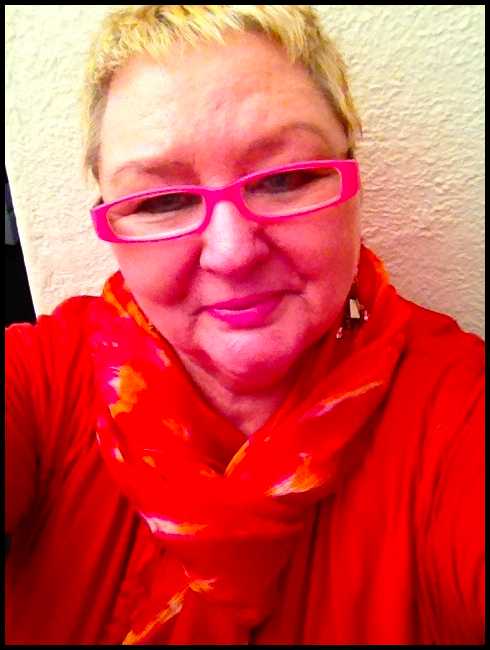 Above: That's me – Teena Hughes – May 2013
Adventuresses?
Eight Adventuresses is a lovely number, so we can all get to know each other and have a great time together :-)
Accommodation:
4 nights in a 3-Star Hotel Apartment near Place de la Bastille, with kitchenette including fridge & microwave (to make it feel more like home). Each apartment will be shared by two Adventuresses. It's a short walk to shops, theaters, bars and restaurants.
Registration Details >>
Itinerary
To be part of this fabulous Plus Size Fashion Tour Adventure, you will:
meet me and the fellow Adventuresses in Paris on the Tuesday for lunch
check-in to an apartment (2 people per apartment, or contact me if you prefer to pay a Single Supplement) with the Adventuresses for 4 nights in a great part of Paris, with breakfast included
enjoy a Champagne Cruise on the River Seine for your first night
we get to know each other further over a delicious French dinner after the champagne cruise
during the days we visit at least 2 (sometimes more) plus-size stores, where you can try on designer French plus-size lingerie and clothes to your heart's content
enjoy a pre-arranged exclusive visit to a fabulous Private Salon of one of the top Plus Size fashion designers in Paris
we'll also visit Tea Salons, Patisseries (cake shops) and cafes to try some amazingly delicious hot chocolate, coffee and tea whilst savouring some of the delicious pastries which Paris is famous for
optional: visit the fabric district at the foot of Sacre Coeur in Montmartre, or the Fashion Museum
optional: explore my favourite hidden jewellery shop in a little side street away from the crowds
enjoy local traditional French cuisine in restaurants close to your accommodation, so easy to walk home after a glass of wine or two :-)
learn the basics of the French language from me, just enough to help you enjoy your stay – no, there won't be any homework or studying :-)
Paris is the fashion capital of the world – we'll visit the gorgeous multi-level store Galeries Lafayette for a marvellous Fashion Show on Friday at 3:00pm. Lasting for 30 minutes, the commentary is in English with great music and we're sure to have fun!
participate in our very own mini Catwalk Fashion Show of Gorgeous Goddesses on the last evening, so we can show off everything we've bought, before a fabulous French dinner in one of my favourite restaurants
check out straight after breakfast on the Saturday morning.
Day 1 to 5:
Day 1: Tuesday – Afternoon Arrival | Champagne Cruise at dusk | Welcome Dinner
Day 2: Wednesday – Shopping – Afternoons at your leisure if desired
Day 3: Thursday – Shopping – Afternoons at your leisure if desired
Day 4: Friday – Shopping – Afternoon Fashion Show @ Galleries Lafayette | Farewell Dinner
Day 5: Saturday – time to check out of the apartment after breakfast.
Included:
airport transfer on arrival & departure days if required
3 Star Apartment accommodation for 4 nights
first evening's Champagne Cruise and Welcome dinner
meeting with a very well-known French Fashion Designer of plus size clothing in her exclusive Private Salon
Farewell Dinner on final night
Metro and Bus Tickets
Admission to all group venues, presentations, tours and meals as listed
Meals included are: breakfast each day, welcome dinner and farewell dinner. Cost of wine is not included in these meals.

Not included:

Cost of getting to Paris / airfare / any travel cost before arriving in Paris
Travel Insurance (which you must have, you will need to provide details to me)
Lunches and dinners unless specified
Cost of drinks/wine is not included
Visits to cafés for tea/coffee/chocolate/cocktails etc will be at your expense.

Optional Extras:

On any day …

Meet my favourite Coiffeur, Frederic, for a hairdressing appointment. Please let me know and I will book in advance for you.

On Day 5 – Saturday

2.5 hr Barge Cruise around and UNDER Paris! I love this cruise. Separate booking & payment can be made up to 1 week prior to your arrival in Paris.

Step 1 – Register Today!

To let me know you'd love to join me, please click this link to contact me today for more information – what fun we'll have!
Step 2 – Receive My Updates via Email
If you'd like to receive regular updates on the upcoming Plus Size Fashion Tour Adventures, and to learn some fascinating snippets about Paris – the city I love, simply fill in this little form below:
..
Step 3 – Please click the link in the email I send you!!
After you fill in the form, look for an email straight away – you'll need to click the Confirmation Link within that email to confirm your request to be on the mailing list. I look forward to being in touch soon!
More info : Introduction >> | Regsitration Info >> | Make Payment >>
Psssst – if you're interested in my other adventures, pop over to the Adventures page.
I look forward to meeting you when you join me in Paris on the next Plus Size Fashion Tour – as we sample the gorgeous plus size fashion!!
Teena