Make Payment
Plus Size Fashion Adventure in Paris
More info : Introduction >> | Regsitration Info >>
Hi there and congratulations on deciding to join me in Paris – what fun we'll have shopping for gorgeous clothes for you!
Please choose the ONE DAY or the FIVE DAY option to get started, and do please let me know if you have any questions :-)
ONE DAY PLUS SIZE PARIS PAYMENT for OUR ADVENTURE
Please choose from the following dates:
September 2015

Fri 11th
Mon 14th
Fri 18th
To reserve your spot, please make your payment with Paypal or Credit Card using the button below — and specify which DATE you are interested in, I will get back to you asap to confirm: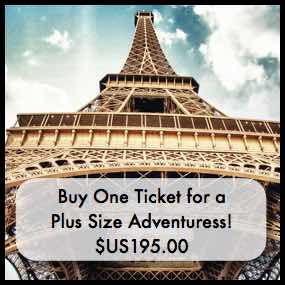 After adding to Shopping Cart, it becomes visible here:
---
Once the payment comes through and we confirm the date, I'll send you the details on when and where we'll meet — I'm so  looking forward to seeing you in gay Paree!
---
Please see below for information on Deposits and Refunds.
5 DAY/4 NIGHT PLUS SIZE PARIS in 2012
Option 1 : Twin Share
Deposit :  $US1,000.00
Final Payment : $US2,750.00
Total: $US3,750.00
Option 2 : Single Supplement $US500 (room to yourself)
Deposit :  $US1,000.00
Final Payment : $US2,750.00 + $500 = $3,250
Total: $US4,250.00
Additional : Spouse/Companion Supplement $US1,700
Accompanying spouse/companion: includes accommodation, daily breakfast, welcome dinner, farewell dinner, metro and museum pass, transportation to and from airport. Does not include any organised activity with the group or other meals/drinks.
Supplement for Spouse is $US1,700.00.
Adventure participant pays $US3,750.00
Total for both people $US5,450.00
Deposit for 2 people :  $1,00 x 2 = $US2,000.00
Final Payment for 2 people : $US3,450.00
Ready to book?
Fantastic! Please contact me today with your details and how many will be attending, and I'll email you with the information on how to pay your Deposit. I'm so looking forward to meeting you and having fun with fashion in Paris!
The Fine Print
The Deposit
A $50-$200 deposit is required to reserve any Plus Size shopping tour date and begin the planning process. You will be sent the link for the online payment via PayPal. Note: you do not need a PayPal account to use PayPal's credit card payment system. If you would prefer to pay the full amount up-front, that's fine too.
** Please note that Deposits are non-refundable unless I cancel the tour.
Payment Balance
Final payment of the Plus Size Shopping Tour balance can be paid in advance online before you arrive in Paris, or in cash the start of the tour (preferably in an envelope, thanks). Note: It is usually not possible to make online payments using PayPal if you are outside your own country (for fraud prevention), so please make sure to pay the balance before leaving home if you prefer not to pay in cash.
Haven't signed up?
Fill in your details today to find out more about the Plus Size Adventure!
Plus Size Paris Adventure