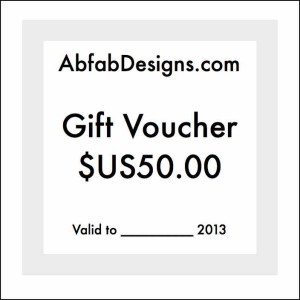 Do you know someone who'd love to receive a Gift Voucher for AbfabDesigns?
Perhaps they might choose one of the gorgeous umbrellas, make-up purses, designer flip-flops, a piece of wearable art (a top or jacket, scarf etc) or other gift they covet – by giving them a Gift Voucher you'll make all their colourful silk-enhanced dreams come true!
Gift Vouchers have a Redemption Date of 3 months after purchase.
The purchaser will receive a Numbered Gift Voucher via email  – if you'd like a Name put on the voucher, please do let me know. The Gift Voucher can then be forwarded by email, or printed out and popped inside a beautiful card.