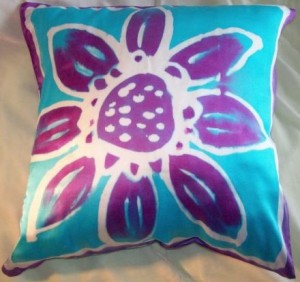 Handpainted silk charmeuse cushion cover
CUSHION COVERS ARE CURRENTLY UNAVAILABLE
<< Turquoise and purple design "Flower 03".
These beautiful handpainted silk cushion covers are made with silk Charmeuse, a luxurious-feeling silk with a lovely sheen; resting your face on one of these whilst reclining on your comfy sofa is sheer bliss.
Each cushion cover has a zipper closure and size is 55x55cm / 22×22 inches.
Each cushion cover is painted to order, so design may differ slightly as they are hand-drawn and hand-painted by me.