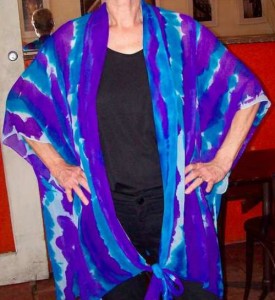 In summer I wear the hand-painted silk Haori sleeveless jackets over everything – pants, tops, long skirts – they are as light as a feather and can really brighten up your outfit.
They are also terrific at hiding the upper arm (many women prefer this) whilst still looking classy and gorgeous.
Two styles – long "ties" at the hem, or no "ties".
I often travel with 4 or 5 of these all year round, plus a long sleeved Haori and a Teena Top or Tunic or two, and the whole lot rolls up into a very small size which can fit in a carry-on bag or handbag on a plane – a space-saver and an amazing wardrobe on arrival, wherever you're headed! They can go over matching summer pants and tops or skirts, and winter pants and tops or skirts, adding a dash of glamour whenever you need it.
Perfect for cruise-wear, resort-wear, for pregnant mothers wishing to look gorgeous, and anyone else who loves to feel like a million dollars.
One size fits many – from approximately Australian size 10-29 (up to 3XL).