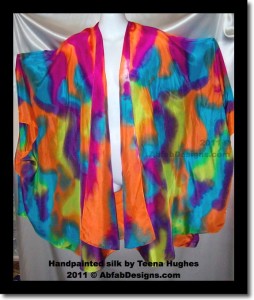 Looking for a piece of clothing which makes a statement?
These silk Ruanas are beautiful and can make you feel absolutely marvellous.
They are PERFECT for travelling, either to wear on travel days or at your destination, and they can be tied into different shapes as well!
If you're slender, you can wrap these around yourself and drape like a long sarong – fabulous!
The clothing I design generally fits Australian size 10-18 with ease, with some of my designs fitting up to size 24-28+, which I believe could be 3X in US sizing.
One size fits many.
72″ entire length (equals 36″ front length, and 36″ back length).
Width 50″ from elbow across to elbow.
After you place your order, I'll be in touch to see which colours you like and which style I will be painting in.