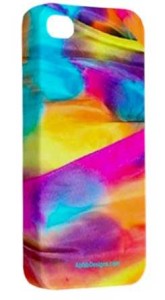 I'm sooo excited about this iPhone 4S Case!
The photo of my folded, hand-painted silk looks like it's real silk wrapping the phone – and I think it's very cool, don't you?
This Silk Design 001 will also be available on other smart-phones, but because I have an iPhone 4S I created the first one so I can test it out on my own iPhone.
When placing your order
Please specify your Model name & number (as shown below) in the Comments field during Check-out, to make sure you order the exact one.
If you have a different model of Smart Phone from the list below, let me know and I'll see if there's a cover available for it too :-)
The hard-wearing plastic case covers the back and corners of the iphone
My silk designs are printed over the edge and around the sides of the case
Total weight is approx 17g
I also include 2 clear screen protection films (to protect screen from scratches)

Currently available:
Apple Seamless iPhone 5 Case (Color)
Apple iPhone 5 Seamless Case (Black)
Apple iPhone 5 Seamless Case (White)
Apple iPhone 4 Case (Black)
Apple iPhone 4 Case (White)
Apple iPhone 4 Case (Clear)
Apple iPhone 4 Case (Color)
Apple iPod Touch 5 Hardshell Case
Apple iPhone 4/4S Hardshell Case (PC+Silicone)
Apple iPhone 5 Classic Hardshell Case (PC+Silicone)
Apple iPhone 5 Hardshell Case (PC+Silicone)
Samsung Galaxy S III Hardshell Case (PC+Silicone)
Samsung Galaxy S3 S III Classic Hardshell Back Case
Apple iPhone 5 Classic Hardshell Case
Apple iPhone 5 Hardshell Case
Apple iPhone 5 Hardshell Case with Stand
Apple iPhone 4/4S Hardshell Case with Stand
Apple iPhone 4/4S Hardshell Case
Apple iPhone 4/4S Premium Hardshell Case
Apple iPhone 3G/3GS Hardshell Case
Apple iPod Touch 4G Hardshell Case
Apple iPod Touch 5 Hardshell Case with Stand
Samsung Ativ S i8750 Hardshell Case
Samsung Galaxy Note Hardshell Case
Samsung Galaxy Note 2 Hardshell Case
Samsung Galaxy S i9008 Hardshell Case
Samsung Galaxy S i9000 Hardshell Case
Samsung Galaxy S II Skyrocket Hardshell Case
Samsung Galaxy S II i9100 Hardshell Case
Samsung Galaxy S III Hardshell Case
Samsung Galaxy S3 MINI I8190 Hardshell Case
Samsung Infuse 4G Hardshell Case
Samsung Galaxy Nexus i9250 Hardshell Case
Samsung Galaxy Nexus S i9020 Hardshell Case
Samsung Galaxy Ace Plus S7500 Case
Samsung Galaxy Ace S5830 Hardshell Case
Samsung Galaxy SL i9003 Hardshell Case
Samsung S3350 Hardshell Case
BlackBerry 10 Dev Alpha A (Z10) Hardshell Case
BlackBerry Bold Touch 9900 9930 Hardshell Case
BlackBerry Curve 8520 9300 Hardshell Case
BlackBerry Torch 9800 9810 Hardshell Case
BlackBerry Bold 9700 Hardshell Case
BlackBerry Curve 9380 Hardshell Case
LG Nexus 4 E960 Hardshell Case
LG Optimus 3D P920 / Thrill 4G P925 Hardshell Case
LG Optimus P970 Hardshell Case
HTC X920E(Butterfly) Case
HTC T328W (Desire V) Case
HTC One SU T528W Hardshell Case
HTC 8X Hardshell Case
HTC One X Hardshell Case
HTC One S Hardshell Case
HTC Vivid / Raider 4G Hardshell Case
HTC Amaze 4G Hardshell Case
HTC Evo 3D Hardshell Case
HTC Sensation XL Hardshell Case
HTC Incredible S Hardshell Case
HTC Desire HD Hardshell Case
HTC Desire S Hardshell Case
HTC Wildfire S Hardshell Case
HTC One V Hardshell Case
HTC Radar Hardshell Case
HTC Desire VT T328T Hardshell Case
Nokia Lumia 920 Hardshell Case
Motorola Droid Razr XT912 Hardshell Case
Motorola Droid X / X2 Hardshell Case
Sony Xperia Arc Hardshell Case
Sony Xperia S Hardshell Case
Sony Xperia ion Hardshell Case
Kindle Fire Hardshell Case
Kindle Touch 3G Hardshell Case
Samsung Galaxy Tab 7″ P1000 Hardshell Case
Samsung Galaxy Tab 10.1″ P7500 Hardshell Case
Samsung Galaxy Tab 8.9″ P7300 Hardshell Case