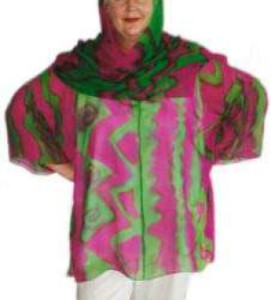 The Teena Top is a loose-fitting, slip on roomy top painted in gorgeous, vibrant handpainted silk dye colours.
Slipping into one of these Teena Tops will transform your day – you'll look even more beautiful, and feel sensational, receiving many compliments on your amazing top.
This Teena Top starts its life as metres (yards) of white silk chiffon – a light-weight silk which is perfect for warmer weather, cruising on the high seas, resort-wear, horse-racing events, dinner parties … and of course summer time.
The silk chiffon is attached to large frames so that I can paint the designs.  This Top has been hand-painted onto beautiful soft and floating silk chiffon, which feels absolutely divine against the skin, and I've chosen hot pink and lime green dyes to create this truly amazing, unique piece of wearable art – I call this pattern "Watermelon".
It takes several days to create each unique wearable art piece, from preparing the silk, to the hand-painting by brush (no silk-screening – nothing is automated), through the finishing process to ensure the silk dyes are colourfast, and then through to the sewing and final touches.
If you feel adventurous and you'd like to be surprised by the style of painting, let me know your colour choices then leave it in my hands – otherwise feel free to specify a style similar to the ones shown on this website.
Teena!
Size Information
Size 01 : Measurement around hem 70″
Measurement from shoulder to hem 37″
Measurement from left wrist to right wrist 60″
Size 02 : Measurement around hem 80″"
Measurement from shoulder to hem 40″
Measurement from left wrist to right wrist 60″
Yes I can make larger sizes – please contact me to discuss.