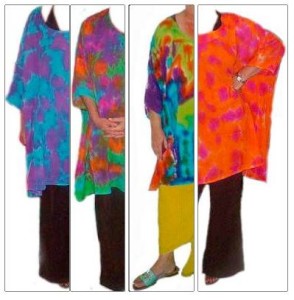 Tunic Saint Tropez
It's a late afternoon somewhere on the French Riviera, we're sipping cocktails, admiring the ocean and feeling chic and cool in the gentle breeze – and I'm feeling fabulous in my hand-painted unique, Tunic St Tropez! Sounds good, doesn't it?
I've had these made from 100% "Rayon Light" fabric, a lightweight weave which drapes beautifully, is gorgeous and floats on air. Perfect for the hotest weather — and perfect for travel too!
Care:
You will need to hand-wash as this fabric is fragile when wet
wring gently or roll in a towel and then wring out
bounces back to full strength when dry
requires minimal or no ironing if you pull it out of the dryer straight away (if you use a dryer, otherwise hang on a coat hanger out of the sun to keep the colours bright and strong).
Details on the Saint Tropez Tunic:
Nicely shaped necklines, rolled edge hems, and indented side seams.
For Small-Medium and 2XL sizes, there is an indented side seam – this means having the side seam sewn in about 6-8″ from the outside seam edge, leaving the actual garment edges free to float.
For 3XL, the side seams are not indented but are stitched close to the edge to allow for a spacious floaty fit.
Sizes
SIZE     WIDTH   LENGTH
S-M/2XL   43"      33"
3XL +     51"      34.5"
To look gorgeous:
can be worn with pants, sarong skirts, skirts or shorts or even over leggings for the daring fashion Diva
makes a great beach cover-up, simply wear over your swimsuit
dress up or dress down depending on shoes, accessories and of course – attitude.
Sizes – Medium to Plus Size Clothing for Women:
available in two sizes – Sml/Medium and XL/3XL (approximately)
To select your colour scheme you can see some colour combinations here:
turquoise blue, purple, orange, lime green, hot pink and yellow.
Also in plain white:
Above: St Tropez Tunique – Hot pink & Orange – "Sunburst"
Above: St Tropez Tunique – Turquoise & White – "Blue Clouds"