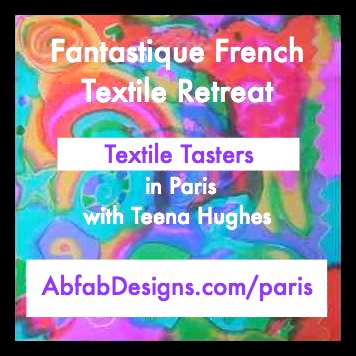 Textile Tour in Paris with Teena Hughes in 2018
I love Paris, I've lived in Paris, and now I revisit Paris almost yearly to catch up with friends, and to show new visitors to Paris the things I love about this amazing city!
In early 2007 (yes, 7 years ago!) I created my first website about Paris, and it became a daily connection — I wrote about things I loved about Paris, and pretty soon I was receiving lots of enquiries via my website.  This was way before Facebook etc, and I was so proud to have built up my website to receive around 1,000 web visitors per day – an incredible achievement for a new site!
I started to write about all the things I do in Paris, and before too long I was organising tours and adventure for folks to meet me in Paris and join me for a day or more on one of my Adventures.
A lot of folks who wrote to me were textile lovers, seamstresses and people who loved to sew. I shared my favourite fabric stores and districts, quaint little haberdasheries and other places to buy buttons, ribbons, trims and everything related to the love of textiles and materials.
So when I visit Paris I always visit the fabric district to browse and see which fabrics, haberdashery etc are in vogue;  I love the feel of the different textiles, being surrounded with the colours of the rainbow, and finding little treasures to take home for my own sewing adventures.
If you'd like to join me on one of these excursions, we can meet in the fabric district, browse to our heart's content for an hour or two, and have a coffee or tea afterwards to share our finds with each other.
10:00am to 2:30am – 4.5 hours
we will meet for a coffee/tea in the fabric district, and get to know each other
next we'll visit and browse in as many stores as we like for about two hours (they're all next to each other)
next we'll rest our weary feet during a quick lunch break at a local cafe before we head off to more stores in the afternoon
maximum 4 people (plus me)

Wednesday 11th July, 2018
Friday 13th July, 2018

$US197 (to be confirmed) per person, includes price of the first coffee or tea.
I'm still in the planning stages, so the dates might change.
If you would like to meet up with me for a tantalising textile-y Adventure, please do send me a message straight away!!  Click here >>
for Textile Lovers
I welcome you with a coffee, tea or cold drink in a French café when we meet up!
Visit to the Montmartre district at the foot of Sacre Coeur (Sacred Heart Church), explore the many different stores which sell silk and all the other gorgeous fabrics your heart desires, the most beautiful haberdashery, beading and many other embellishments for scarves, clothing and interior design
A little AbfabDesigns Silk Samples Booklet of silk swatches with information about types of silk (my favourite)
Handouts with information about the history of Montmartre.
What else will we do?
Enjoy lunch in a local café in the middle of the day (we each pay for ourselves)
Enjoy an afternoon tea, coffee or cold drink at the end of our Textile Taster at a lovely Montmartre café bar (included)
Chat with the locals and enjoy being in Paris :-)
If possible, I will arrange for one of my friends to join us, so you can talk to someone who lives in Paris.