Fabulous January is the start of a spectacular New Year!
I've been working on my "plan" (dream!) for the year, and I decided to start off with some branding.
I created a Video "intro" which will be at the beginning of any Abfab videos I make this year — and you're the first to see it — woohoo! What do you think? Do you like it? Let me know in the Comments below!
Click the video to start — it's only 18 seconds :-)
---
I've been playing around with some ideas on how to get my creative juices going again (they've been on hiatus for a while, but they're ready to jump into 2016!) and I thought I'd share some of these ideas with you:
create a Monthly Design — I could design one new design per month
each design could be available in several different ways:

handpainted silk clothing
handbag
smart phone case, zipper bag etc
umbrella
and possibly other items — I do like the idea of gorgeous, bright coffee cups!

run Monthly competitions for my Abfab News Subscribers – the gorgeous souls who keep in touch with me and share snippets of their life — perhaps I could ask these folks to share photos of themselves with an Abfab designed piece of art, and they could be featured either privately for Subscribers only, or on a new Photo Gallery page I could create on my website.
create Journals with photos of my silk designs inside — also Diaries. UPDATE: The very first Abfab Diary has been published and is available on Amazon! Click here for more info and to look inside the Diary >> Here is a photo – I'm so thrilled with the way this turned out!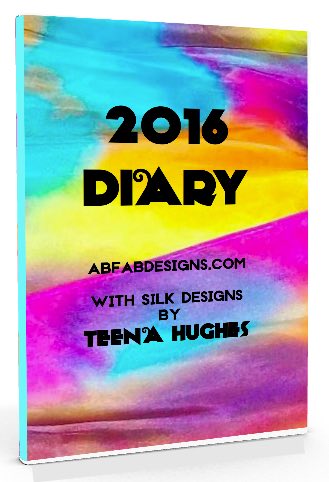 Click here for more info and to look inside the Diary >>
Do any of these ideas sound any good?
Would any of you like to Comment below or email me and let me know your thoughts?
I'd be ever so grateful — I'm thrilled to bits you've already chosen to follow along my creative journey, and I'd love you to be more a part of it.
Many thanks Abfabalicious friends!
From my heart to yours, have a fabulous January !

Many thanks Abfabalicious friends!
Big hugs from

More soon! XXX
Teena Hughes
PSSST! Not on the mailing list? Pop over here and sign up:
Prefer to chat on Facebook? Pop over to this page >>